1. PEANUTS ARE NOT NUTS.
Just because the word "nut" is in their name doesn't make them nuts.
2. THEY'RE GOOD FOR YOU.
Peanuts are a great source of protein.
3. PEANUT BUTTER IS A BRILLIANT INVENTION.
Researchers believe the ancient Aztecs started mashing up peanuts hundreds of years ago.
4. THERE ARE OVER 500 PEANUTS IN EVERY JAR OF PEANUT BUTTER.
It takes approximately 540 peanuts to make one 12-ounce jar of peanut butter.
5. SOMEONE IS GETTING RICH OFF OF PEANUTS.
In the United States, one of the world's leading peanut exporters, peanuts are the 18th most valuable crop.
6. AN EARLY INTRODUCTION OF PEANUTS INTO ONE'S DIET CAN REDUCE THE LIKELIHOOD OF PEANUT ALLERGIES.
In a study recently published in The New England Journal of Medicine, researchers from the United Kingdom and the United States announced that early introduction of peanuts dramatically reduced the prevalence of peanut allergies, even if the child stopped eating peanuts when he or she got older.
7. AMERICAN PRESIDENTS LOVE PEANUTS.
Well, at least two of them did: Former Presidents Thomas Jefferson and Jimmy Carter were both peanut farmers!
8. PEANUT BUTTER IS ONLY PEANUT BUTTER IF PEANUTS MAKE UP 90 PERCENT OF ITS RECIPE.
These days there are so many brands of peanut butter to choose from, it can be hard to pick a favorite.
9. THERE'S A WORD FOR THE FEAR OF HAVING PEANUT BUTTER STICK TO THE ROOF OF YOUR MOUTH.
Arachibutyrophobia is the fear of peanut butter sticking to the roof of your mouth.
10. SOME PEOPLE MAKE A PRACTICE OUT OF THROWING PEANUTS.
According to Guinness World Records, Colin Jackson holds the record for throwing a peanut the farthest—a total of 37.92 meters (or 124 feet, four inches).
11. PEANUT SHELLS HAVE MULTIPLE USES.
Leftover peanut shells can be used to make kitty litter, kindling, fireplace logs, or compost! If you use them as packing material, you are even helping out the environment as they are eco-friendly!
12. ONE FAMOUS PEANUT WEARS A TOP HAT AND CARRIES A CANE.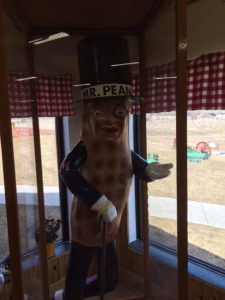 This famous nut that is known for rocking a monocle, top hat, and shoes turns 100 this year and makes his home at Planters.
13. THERE IS ACTUALLY MORE THAN ONE TYPE OF PEANUT.
There are actually four different types of peanuts from which to choose at your local megamart.
14. AMERICANS LOVE THEIR PEANUTS.
Peanut farmers in the United States produce approximately 1.9 million tons of peanuts each year.
15. PEANUTS HAVE THE POTENTIAL TO SAVE LIVES.
Plumpy'Nut © is a life-saving food consisting of a peanut-based paste that's used to treat severe malnutrition in emergency situations.
Source: Mentalfloss